ComeSitStay doesn't have luxury suites with TV's. We don't offer playtime minutes, designated snuggle times, or special bedtime treats on hypoallergenic cots. We are not a franchise or a chain and we don't operate out of a state of the art, multi million dollar building. ComeSitStay is simply a great place where your dog can be a dog — whether that means acting crazy in our playroom, snoozing on a bed in the lobby, or sitting on a staff members's lap all day. We are a small facility which allows us to get to know your pet by name, not by number. It's hard to leave your pet at a strange place with people you don't know. Our staff is made up of pet owners, so we get it. We want you to feel comfortable so we encourage you to tour our entire facility at any time. Bring your pet along, too… you're gonna love it!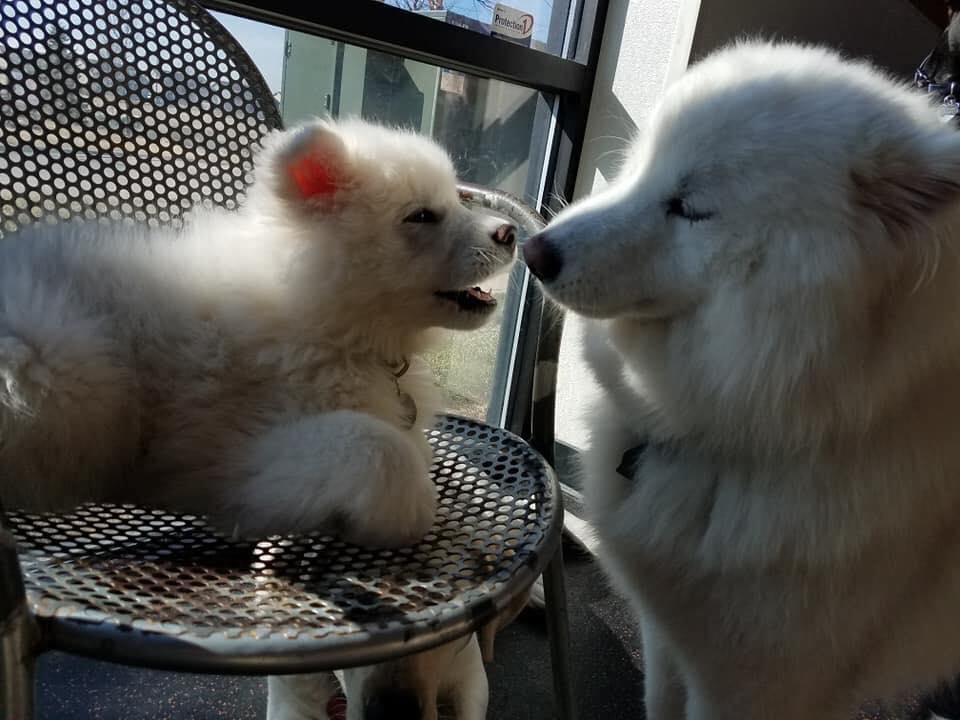 Q: What sort of vaccinations does my dog need to come, sit, and/or stay?
A: Your pet must be current on rabies, distemper, and bordetella.  Your vet can either fax a copy to 402-932-3609 or you can bring a copy in with you.
Q: What should I bring with my dog for an overnight stay?
A: We do not have any restrictions on what you bring from home.  Whatever you choose not to bring we will provide at no additional cost.  Examples:  bedding, toys, treats, food, etc...
Q: What if I'm not sure how my dog will do with the others?
A: We welcome you to bring your pet in for a visit or even a few days of daycare prior to their stay.  
Q: Do you have an overnight staff?
A: While we do not have a staff member that spends the entire night, we do have someone that comes up afterhours to let everyone outside, one last time, before bed.
Q: Is your building/premises secure?
A: YES!!  We have an alarm system, a secure 6 foot vinyl privacy fence, and the nearest staff member can get to ComeSitStay within 5 minutes if needed!  Safety is our number 1 concern!
Q: What if my dog gets injured or sick while he is in your care?
A: You will be notified right away, and depending on the situation, we will always try to take your dog to your veterinarian first.  We will take your pet to an emergency clinic if an after hour emergency arises.   
Q: Why should I trust ComeSitStay?
A: Experience is everything in the pet care business!  Owner, Renee Johnson, has over 20 years experience working in both animal behavior and medical related fields.  The staff is made up of dog trainers, humane society volunteers, veterinarian assistants, pre-vet students, etc.  Bottom line:  Your pet is in good hands!

BOARDING
We offer our guests a safe, clean environment in which to stay while you're away.

DAYCARE
Your furry friend will get plenty of exercise and enjoy tons of playtime throughout.

GROOMING
Your dog is handled with care and groomed according to your instructions.

TRAINING
Dog training makes life at home happier for dogs and their families.